Trending news
Chambers HNW 2016 Honors Nutter for Excellence in Private Wealth Law
Print PDF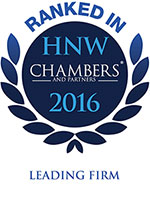 Nutter is pleased to announce that the firm was recognized as a leading law firm in Private Wealth Law in Massachusetts in the inaugural edition of Chambers High Net Worth (HNW). Sources lauded Nutter's private wealth practice, stating that the firm's lawyers are "extremely knowledgeable and they give you straight talk. Just terrific."
Three Nutter lawyers were selected as notable practitioners: Peter Brown, William Kirchick, and Natalie Choate. Brown chairs Nutter's Trusts and Estates practice and represents individuals and families on estate and tax planning matters. According to Chambers HNW, Brown "is very well thought of in the community. He's great, a very good lawyer." Kirchick advises closely held businesses, families, corporate executives, and individuals with trusts, estates, and business succession planning. Sources noted that "He's very well respected. He is energetic and smart, he is practical and knowledgeable and has been doing it for a lot of years." Choate is highly regarded for her extensive experience in estate planning for retirement benefits, with Chambers HNW stating that "She's kind of the guru when it comes to qualified retirement planning assets."
Nutter provides comprehensive practical advice and legal counseling to high net worth individuals and families on a wide variety of issues. The firm's Trusts and Estates practice has advised clients on financial and estate planning, trust and estate administration, and related probate proceedings for more than a century. In addition, the Nutter Charitable Advisors practice group offers a broad array of services to both non-profit organizations and individuals and businesses who contribute to such organizations, including investment advisory, trust accounting, and tax preparation services to its charitable clients.
Please click to view Nutter's complete listings in Chambers HNW 2016.
Published by Chambers & Partners, the Chambers HNW guide focuses on the international private wealth market. The rankings are the result of independent research in which hundreds of interviews were conducted of lawyers, family offices, accountants, tax advisers, bankers, investment managers, and other professionals about the private wealth industry.
###
About Nutter
Nutter is a top-tier, Boston-based law firm that provides legal counsel to industry-leading companies, early stage entrepreneurs, institutions, foundations, and families, across the country and around the world. The firm's lawyers are known for their client-centric approach and extensive experience in business and finance, intellectual property, litigation, real estate and land use, labor and employment, tax, and trusts and estates. Co-founded in 1879 by Louis D. Brandeis, who later became a renowned justice of the U.S. Supreme Court, Nutter is dedicated to helping companies prosper in today's fast-paced business environment. For more information, please visit www.nutter.com.
More News >