Trending news
Nutter Recognized at Cristo Rey Boston 2021 Academic Signing Day; Event Celebrates Achievements of Graduating Students
Print PDF
| Announcement
On May 19, Cristo Rey Boston honored Nutter, Quincy Miller, vice chair and president of Eastern Bank, and Harold E. Ebbighausen, former board chair of Cristo Rey Boston, at its 2021 Academic Signing Day. The well-attended event highlighted the accomplishments of students in this year's graduating class. Nutter was recognized for its support of Cristo Rey's mission to offer opportunities to students from under-resourced communities across Greater Boston.
Cristo Rey Boston, in partnership with its supporters, is making investments in people, organizations, and communities of color, and delivering real change by building a pipeline of diverse, 21st century talent. At the event, students shared stories of their families, backgrounds, and the challenges they continue to face, which included video presentations and speeches. Cardinal Sean O'Malley also delivered inspirational remarks.
The graduating class consists of approximately 75 students – 98% of who will attend college in the fall. Ninety-seven percent of those attending the school are students of color and hail from families with a median income of $30,000/year for a family of four. Numerous students participate in the Corporate Work Study Program in addition to holding multiple jobs to contribute financially to their families. Cristo Rey Boston graduates have continued their education at the college level at nearly 100% participation for the past 16 years.
Cristo Rey Boston graduating students received an impressive array of acceptances from prestigious higher education institutions, including Princeton University, Johns Hopkins University, Georgetown University, College of the Holy Cross, Providence College, Clark University, Northeastern University, and many others.
Shannon Zollo, a partner in Nutter's Corporate and Transactions Department and chair of the firm's Mergers and Acquisitions and Private Equity practice groups, and Michael Mooney, chairman emeritus, represented Nutter at the event. Nutter's commitment to Cristo Rey Boston dates back to 2004 when the firm began participating in the Corporate Work-Study Program, in which students integrate four years of rigorous college-preparatory academics with four years of professional work experience. Graduates of the Corporate Work Study Program have successfully gone on to forge careers in law, finance, and professional services.
Speaking to Cristo Rey's commitment to its students, Mike said, "I've never seen such a dedicated group of people. The school maintains a 24/7 mindset and keeps students at the forefront by truly caring about them and working with them when they need help."
Cristo Rey Boston seeks to address the still unresolved challenges of racial equity, social justice, and income inequality. Shannon reflected on the devotion of the school to see students thrive in their careers as students and beyond.
"Nutter is so proud to be involved with Cristo Rey Boston, as we share its belief that every student is capable of success. It is all of our responsibility to provide opportunities for students from every background so that they can achieve their full potential," Shannon said.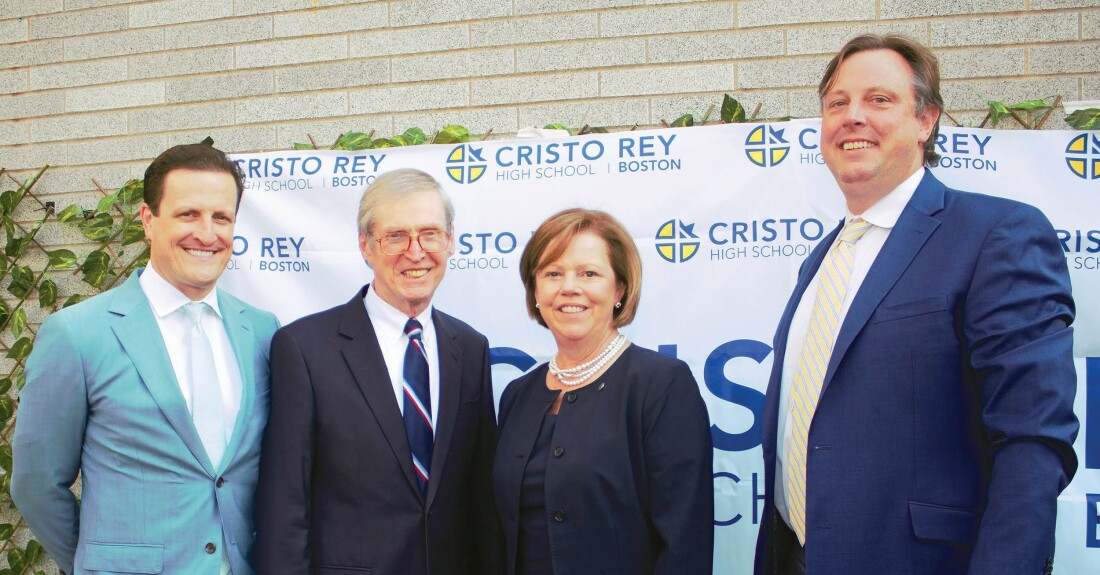 Shannon Zollo (left) and Michael Mooney of Nutter with Rosemary Powers, President of Cristo Rey Boston High School, and Tom Ryan, Principal of Cristo Rey.
YOU MAY ALSO LIKE:
Nutter Named an Honoree at Cristo Rey Boston 2021 Academic Signing Day
More News >