Trending news
Nutter selected for Vault's Top 150 Under 150
Print PDF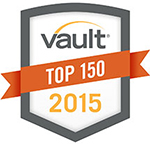 Nutter is one of three Boston firm selected for the Vault's Top 150 Under 150 list, which recognizes midsize law firms known for providing top-notch service and delivering big results.
Vault, the most comprehensive resource for employer, university and internship program rankings, ratings and insight, developed the inaugural Top 150 Under 150 as a resource for students and lateral candidates seeking an experience outside of BigLaw.
To determine the Top 150 Under 150, Vault developed a list of the best-known and most sought-after U.S. firms with fewer than 150 attorneys. Vault's editorial and research teams analyzed Vault survey data, news stories, trade journals and other legal publications; spoke with lawyers in the field and reviewed other published rankings.
View the entire Vault Top 150 Under 150 list here.
More News >