Trending news
Nutter Supports the Walk to the Hill for Civil Legal Aid 2016
Print PDF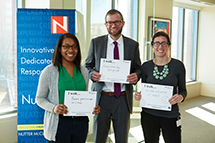 On January 28, 2016, Nutter participated in the annual Walk to the Hill to urge lawmakers to protect state funding for programs that provide civil legal aid to low-income Massachusetts residents. Nutter associate Nick Stabile served as the firm's captain, leading approximately 20 lawyers on this important cause. Nutter has supported the Walk to the Hill since its inception in 2000.
For those unable to afford an attorney, civil legal aid plays a key role in ensuring justice for all and helps individuals and families combat legal crises such as homelessness and domestic violence, preventing further instability in their lives. Civil legal aid also helps Massachusetts residents protect the welfare of children, gain access to veterans' benefits and health care, and resolve unemployment appeals and wage and hour disputes.
Pictured (l to r): Nutter associates Christina Dawson and Andrew McArdell display their signs with the reasons why they call on state lawmakers to ensure equal access to justice.
More News >