Trending news
Nutter Represents Related Beal as Groundbreaking Ceremony Heralds Official Construction Start of $230 Million Mixed-Use Development
Print PDF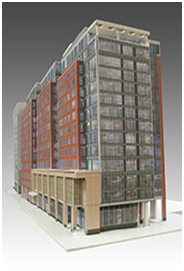 Nutter client Related Beal, an affiliate of Related Companies, marked the start of a $230 million mixed-use development in a groundbreaking ceremony yesterday attended by Charlie Baker, Governor of Massachusetts; Marty Walsh, Mayor of Boston; Undersecretary Crystal Kornegay of Massachusetts Department of Housing and Community Development; Bruce Beal, Chairman of Related Beal; Robert Beal, President of Related Beal; Kim Sherman Stamler, COO of Related Beal; Bruce Beal, Jr., President of Related Companies; Jeff Blau, CEO of Related Companies; Ted Lubitz, VP of Related Beal; and other luminaries.
Michael Burke and Mary Marshall led the Nutter team that represented Related Beal on a range of complex issues, including title, acquisition, zoning, and environmental matters as well as state and City of Boston entitlements, real estate tax stabilization, and hotel financing. Nutter also negotiated the development rights and the air rights lease which was signed in December of 2015 with the Massachusetts Department of Transportation.
Parcel 1B is a mixed-use project in the North Station area of Boston. It is the first large-scale 100 percent affordable and workforce housing development in downtown Boston in the past 25 years. The project will include a large-scale residential development exclusively offering below-market rental rates as well as a 220-room hotel, ground floor retail space, and parking.
Nutter's Real Estate and Finance Practice Group represents clients in all aspects of sophisticated real estate transactions, including acquisitions and disposition; entity formation; land use and permitting; conveyancing; real estate financing; leasing and property management; construction contracting; foreclosures, workouts, and restructurings; and environmental compliance and regulatory matters. Nutter's lawyers regularly advise clients before federal, regional, state, and local governmental authorities; local zoning boards and planning boards; the Massachusetts Department of Environmental Protection; Massachusetts Executive Office of Environmental Affairs; and the U.S. Environmental Protection Agency. The firm's real estate clients span owners, operators, lenders, developers, managers, brokers, institutional investors, governmental authorities and quasi-governmental organizations, hospitals and other health care providers, educational institutions, and other not-for-profit entities.
###
About Nutter
Nutter is a top Boston-based law firm providing high-level legal counsel to clients who range from well-established companies and institutions to early stage entrepreneurs to foundations and families. U.S. News & World Report and Best Lawyers ranked Nutter in the top tiers nationally in thirteen practice areas and in the top tier for Boston in twelve areas in the 2016 "Best Law Firms" rankings. Nutter was co-founded by Louis D. Brandeis and has been in continuous practice for 136 years. For more information about Nutter, please visit www.nutter.com.
About Related Beal
Related Beal is a fully integrated real estate firm focused on development and investment opportunities in Boston and the surrounding region. Related Beal leverages a national real estate platform with expertise across all assets classes and storied local experience in life sciences, commercial and residential development, property management and real estate investments. Related Beal has developed, and is undertaking the development of, some of the most recognized buildings in the area including The Clarendon and One Back Bay, Congress Square and the Quinzani Bakery site in the South End. For more information on Related Beal, please visit www.relatedbeal.com.
More News >