Trending news
Nutter Partner Stephen J. Brake Named Fellow of Litigation Counsel of America
Print PDF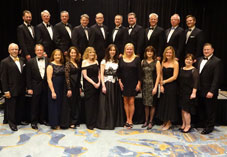 Boston, MA
–
Stephen J. Brake
, a partner in Nutter's Litigation Department, has been selected as a Fellow of the Litigation Counsel of America (LCA). Brake practices in a broad range of litigation, including toxic tort, intellectual property, commercial real estate, land use and zoning, and construction litigation.
The LCA is a trial lawyer honorary society composed of less than one-half of one percent of American lawyers. Fellowship in the LCA is highly selective and by invitation only. Fellows are selected based upon excellence and accomplishment in litigation, both at the trial and appellate levels, and superior ethical reputation.
Brake has represented clients in a wide-ranging trial practice for over 30 years. He has tried toxic tort, environmental, construction, and real estate cases to verdict. He serves as national counsel for a technical paper company in asbestos-related litigation and in that capacity has successfully tried a series of cases to juries, obtaining defense verdicts in a number of jurisdictions across the country. In addition, Brake served as Special Assistant Attorney General representing the Commonwealth of Massachusetts in connection with all claims arising from the alleged "sick building" status of the Ruggles Center, the former home of the Massachusetts Registry of Motor Vehicles.
Brake is a member of the Litigation and Environmental Sections of the Boston Bar Association, a fellow of the Massachusetts Bar Foundation, and a member of the Board of Greater Boston Legal Services. He frequently lectures for Massachusetts Continuing Legal Education, Inc.
# # #
About Nutter
Nutter is a top-tier, Boston-based law firm that provides legal counsel to industry-leading companies, early stage entrepreneurs, institutions, foundations, and families, across the country and around the world. The firm's lawyers are known for their client-centric approach and extensive experience in business and finance, intellectual property, litigation, real estate and land use, labor and employment, tax, and trusts and estates. Co-founded in 1879 by Louis D. Brandeis, who later became a renowned justice of the U.S. Supreme Court, Nutter is dedicated to helping companies prosper in today's fast-paced business environment. For more information, please visit
www.nutter.com
and follow us on Twitter at
@NutterLaw
.
More News >