Trending news
Nutter Partner Paul Ayoub Releases Inspire Me! Book of Inspirational Quotes to Benefit St. Jude's Children's Research Hospital
Print PDF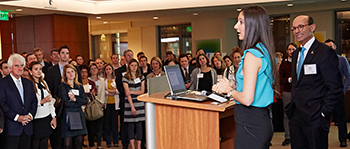 Boston, MA – Nutter partner Paul Ayoub and his 23-year-old daughter, Lizzie, have teamed up to launch Inspire Me! - A father-daughter book of quotations to motivate, teach and inspire, published by Humble Hues. Assembled and edited by the Ayoubs, the collection includes quotations both widely known and never-before published from people from all walks of life.
"Lizzie and I have always been passionate about quotations and the power they have to change attitudes, minds and lives. We both have learned that it is often not just the words but the message behind the words that makes a quote so meaningful," said Ayoub. "We are excited to donate all profits from Inspire Me! to St. Jude Children's Research Hospital. St. Jude has been a part of our family's life and passion for many years." Ayoub's father, Joseph Ayoub, was among the original group that helped Danny Thomas start St. Jude in the 1950s.
Organized into 12 chapters, representing the Ayoubs' guiding principles in life, Inspire Me! has been an Amazon Best Seller for several weeks, achieving status as a #1 Best Seller, #1 Top Rated, and #1 Hot New Release for quotation books on Amazon. The authors were joined by over 200 guests at the official book reception in Nutter's offices.
A member of Nutter's Executive Committee, Ayoub is a member of the firm's Real Estate and Finance Department, and Nutter Charitable Advisors. He has 30 years of experience in representing clients in the financing and development of commercial real estate projects. Ayoub also advises a wide-range of non-profit clients.
Ayoub serves as chair of the national Board of Directors of ALSAC, the fundraising and awareness organization for St. Jude Children's Research Hospital in Memphis, Tennessee. Locally, he serves as vice chair of the Board of Directors of the Greater Boston Chamber of Commerce as well as co-chair of the Chamber's Real Estate Development Committee. He also serves on the Board of the Real Estate Finance Association and is a member of the Board of Incorporators of the Boston Local Development Corporation. Additionally, he serves as chair of the Building Committee of the Board of Trustees of Noble and Greenough School in Dedham, Massachusetts.
Lizzie Ayoub is a consulting analyst for a global technology and management consulting company in its Atlanta, Georgia office.
# # #
About Nutter
Nutter is a top-tier, Boston-based law firm that provides legal counsel to industry-leading companies, early stage entrepreneurs, institutions, foundations, and families, across the country and around the world. The firm's lawyers are known for their client-centric approach and extensive experience in business and finance, intellectual property, litigation, real estate and land use, labor and employment, tax, and trusts and estates. Co-founded in 1879 by Louis D. Brandeis, who later became a renowned justice of the U.S. Supreme Court, Nutter is dedicated to helping companies prosper in today's fast-paced business environment. For more information, please visit www.nutter.com and follow us on Twitter at @NutterLaw.
More News >