Trending event
Nutter Serves as Title Sponsor for Medical Device Venture Competition
Print PDF
Nutter is serving as the title sponsor for the second annual New Venture Competition at M2D2 (Massachusetts Medical Device Development Center, based at UMass Lowell) which kicks off in February and concludes on April 10. Full details follow.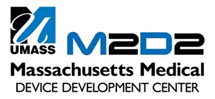 20K March Madness Spreads to the Medical Device Community!
M2D2 is hosting a medical device startup competition that will find Massachusetts' best new medical device ventures - and award thousands of dollars worth of services for product development.
Who is Eligible
The M2D2 New Venture Competition is open to medical device technology-based startup businesses located in Massachusetts. The venture must involve the development of a new medical device.
Competition Details and Deadlines
First Round: Entries are due by 5 p.m. Friday, Feb. 1, 2013.

Applications and executive summaries must be submitted via email at M2D2@uml.edu by 5 p.m. Friday, Feb. 1, 2013. Applications are available at http://www.uml.edu/M2D2. There is a $25 entry fee. Applicants will be judged by a team of medical device experts.
Finalists will be chosen from the pool of applicants and notified by Feb. 15, 2013.

Second Round: Detailed Applications are due by 5 p.m. Friday, Mar. 1, 2013 and applicants who advance to this round will give presentations on Wednesday, Mar. 27, 2013.

The finalists will be invited to submit a detailed M2D2 New Venture application form by 5 p.m. Friday, Mar. 1, 2013.
The finalists also will be required to present before a panel of expert judges at M2D2 on Mar. 27, 2013 beginning at 6 p.m. The presentations will be a maximum of 5 minutes in length and followed by a brief Q&A session with the judges.

Winners' Ceremony to be held on Wednesday, April 10, 2013.

Three winners will be selected. The winners and award amounts will be announced on April 10, 2013 at the Nutter McClennen & Fish LLP offices located at Seaport West, 155 Seaport Boulevard, Boston, MA.
Prizes $20,000
A total of $10,000 in M2D2 Services will be awarded, including:

Engineering Services (prototyping, etc.)
Business School Services (business plans, market development, etc.)
Medical School Services

A total of $10,000 in Legal Services from Nutter McClennen & Fish.
For full contest details, please visit http://www.uml.edu/M2D2 and navigate to the events page or check us out at 600 Suffolk Street, 2nd Floor, Lowell, MA 01854. Please call 978-934-3465 if any further assistance is required.
More Events >