Trending event
Nutter Hosts Massachusetts Women's Forum 11th Annual 'Women Opening Doors for Women' Mentoring Event
Print PDF
Nutter was pleased to serve as host of The Massachusetts Women's Forum 11th annual "Women Opening Doors for Women" mentoring event on April 26. More than 135 women were in attendance at this event which pairs established executives with aspiring leaders. Deborah J. Manus, Nutter's managing partner and a member of the Massachusetts Women Forum, and Dawn Curry, a partner in Nutter's Litigation Department, were among the attendees (pictured below).
Over 30 mentors participated including Gloria Larson, President of Bentley University; Dana Born, Brigadier General (USAF RET) & Lecturer in Public Policy at the Harvard Kennedy School of Government Center for Public Leadership; and Donna Cupelo, Region President of Verizon Communications. The emerging leaders in attendance represented over 50 different companies in the Commonwealth. Beth Monaghan, CEO and Founder of InkHouse, provided a keynote address based off of her TED talk, "Leave the Ladder Down."
The Massachusetts Women's Forum was founded in 1991 with the purpose of bringing together women leaders across industries and sectors to enrich and enhance professional development, foster the exchange of ideas and create new relationships, and to validate the contributions women are making to the Commonwealth. The Massachusetts Women's Forum is a chapter of the International Women's Forum (IWF), a group of over 3,800 female leaders throughout the world.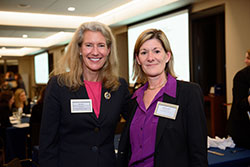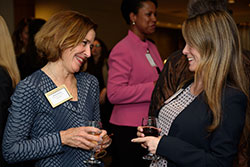 More Events >