Trending event
Nutter Presents 2017 Founder Roundtable for High Growth Food and Beverage Entrepreneurs
Print PDF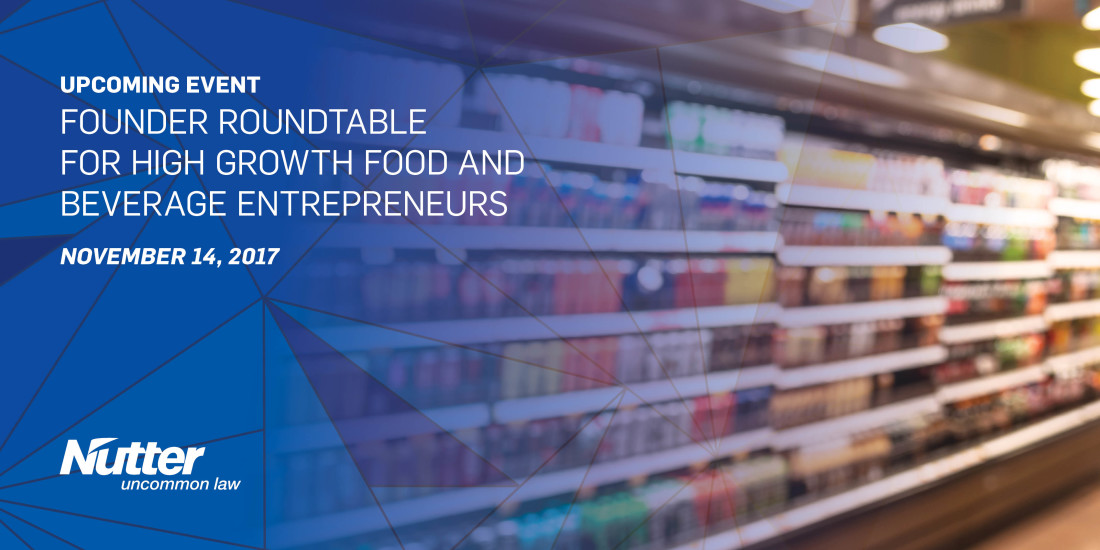 Nutter is once again pleased to serve as host and co-presenter of the Founder Roundtable for High Growth Food and Beverage Entrepreneurs. A joint event of the Food and Beverage Group at Nutter, KN+S Accounting, Whipstitch Capital, JPG Resources and The Startup Institute, this event will combine peer-to-peer networking, product demonstrations, and informative sessions on the current state of the industry for investors, retailers, and leaders and senior executives of high growth food and beverage companies.
Jeremy Halpern, a partner in Nutter's Food and Beverage Group and the co-chair of the firm's Emerging Companies Group, will serve as the moderator of the panel, "Capital, Velocity and Passion: The Key Value Drivers of High Growth Brands," which will provide attendees with key takeaways on how to grow their business. Marketing partners for the event include Branchfood, Commonwealth Kitchen, The Capital Network, The Food Loft, FoodSol, and Project NOSH.
If you are interested in attending, please register here.
Event Details:
Tuesday, November 14, 2017
6:00 - 9:00 p.m.

Nutter
155 Seaport Blvd
Boston, MA 02210
Agenda
6:00 p.m. - Registration & Product Demo
Sample products from emerging local food & beverage brands.

7:00 p.m. - Keynote: View from Expo East/Key Trends
Carol Ortenberg, Editor, Project NOSH
A look at the latest trends in food and beverage, with a particular eye on what was hot at Summer Fancy Foods, Expo East, and NACS.

7:30 p.m. - Flash Report: Deal Trends in CPG Food and Beverage
Tim Sousa, Whipstitch Capital
A rapid look at the latest deals and deal terms in food and beverage financings and acquisitions.

7:45 p.m. - Capital, Velocity and Passion: The Key Value Drivers of High Growth Brands Panel
Moderator: Jeremy Halpern, Partner, Nutter
Panelists: Lauren Jupiter, Managing Partner, AccelFoods, LLC
Josh Herzig-Marx, VP of Product, Emerging CPG, Catalina USA
Jim Goldberg, CEO, Deep River Snacks
Lisa Sebesta, Managing Partner, Fresh Source Capital
Hear from some of the leaders in the food and beverage space see as key value drivers for their business.
8:30 p.m. - Networking
Please register online here.
More Events >