Trending news
Nutter Managing Partner Deb Manus Named A '2017 Women Who Mean Business' Honoree by the Boston Business Journal
Print PDF
| Announcement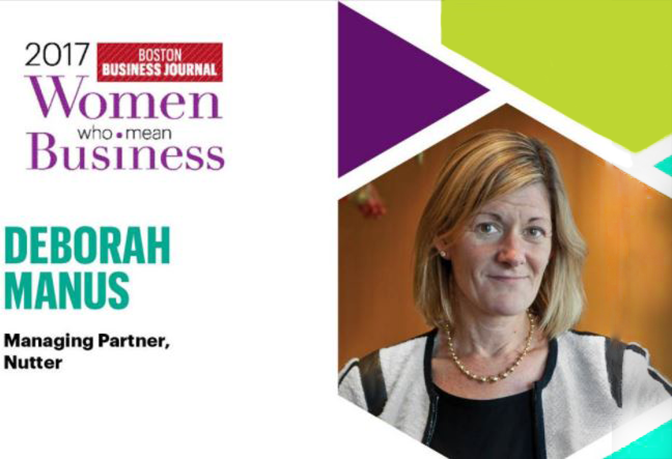 Deborah J. Manus, Managing Partner of Nutter, has been selected as a "2017 Women Who Mean Business" honoree by the Boston Business Journal. The award, now in its inaugural year, lauds outstanding women from public and private companies, nonprofits, and startups. Deb and the other honorees represent the diversity of business in Greater Boston and have demonstrated significant growth in their companies. They will be celebrated for their accomplishments on December 12.
Deb was named Managing Partner of Nutter in 2011 – a rare distinction for women in the legal profession. Under Deb's leadership, Nutter has established cross-departmental teams and a client interview program to better serve client needs; adopted a comprehensive Diversity and Inclusion Strategic Plan; and made significant investments in professional development.
A leader in numerous business and civic organizations, Deb recently served as Treasurer of the Boston Bar Association. She is on the Board of Overseers of the New England Aquarium. Deb is president and member of the board of directors of the Nantucket Maria Mitchell Association, which operates a natural science museum, aquarium, and two observatories on Nantucket.
In addition to serving as Managing Partner, Deb has an active practice, advising high net worth individuals and families on estate and trust administration and estate planning. She has extensive experience settling complex estates, helping clients structure large, tax-efficient gifts and implementing other planning techniques to reduce transfer taxes. Deb also assists clients with pre-nuptial planning and helps clients accomplish their philanthropic goals, advising on lifetime and testamentary gifts to public charities, private foundations and charitable trusts.
More News >