Trending news
Nutter Commemorates the 100th Anniversary of Founding Partner Louis Brandeis's Confirmation to the U.S. Supreme Court
Print PDF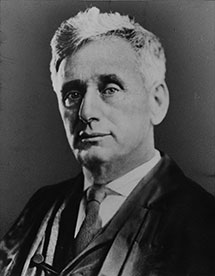 On June 5, 1916, the co-founder of Nutter, Louis D. Brandeis, was sworn in as an Associate Justice of the U.S. Supreme Court. President Woodrow Wilson nominated Brandeis earlier that year, but as the first Jewish nominee who had fought for the cause of minimum wage and other labor protections while in private practice, Brandeis faced bitter, vocal outrage about his appointment. The Senate dragged out the approval process for an unheard-of four months before finally voting in his favor. An ardent supporter of social reform, Brandeis upheld the freedom of speech, defended civil liberties, and opposed unlimited governmental power during his long, distinguished career on the bench.
"It is impossible to overstate the importance of Louis Brandeis's role in shaping our nation's laws and legal system," said Deborah J. Manus, Managing Partner of Nutter. "However, his influence extends well beyond the legal profession. Brandeis was an innovator who modernized labor laws, advocated for free speech, and championed privacy rights – ideals that continue to resonate today."
Brandeis pioneered legal theories and techniques that continue to influence generations of lawyers and judges. His ground-breaking "Brandeis Brief" rooted legal arguments in expert testimony, data, and facts, helping to successfully defend an Oregon law limiting women's workdays before the Supreme Court. Among other notable cases, the lawyers in Brown v. Board of Education employed the Brandeis Brief to end desegregation in public schools.
Nutter was co-founded by Brandeis and Samuel D. Warren in 1879 (and originally called Warren & Brandeis). The firm quickly gained a reputation for representing many of New England's growing industries. In another example of Brandeis's foresight, he and Warren authored "The Right to Privacy" in 1890, a law review article which established the legal concept of privacy and a "right to be let alone." As the firm grew more successful, Brandeis devoted increasing time to acting as unpaid counsel for causes of reform, earning him the moniker of the "People's Attorney" and paving the way for law firms to engage in pro bono work.
Brandeis practiced law at Nutter for 35 years, earning renown for his exceptional legal expertise, extraordinary dedication, and a willingness to devote time to pro bono legal representation. These core values form the foundation of Nutter's longstanding commitment to excellence. Nutter is proud to uphold Brandeis's enduring legacy.
More News >