Summer Associates
When you join us as a summer associate, you will become part of our unique culture – working on substantive assignments with collaborative, insightful Nutter teams to deliver smart solutions to clients. It's why Nutter ranked #1 nationally six times in The American Lawyer's Survey of Associate Satisfaction and why many of our summer associates embark on decades-long careers at the firm.
During the summer, we provide training and feedback in a number of ways, and each summer associate is assigned a Partner mentor, two Associate mentors, and a Hiring Committee mentor. Formal reviews are given midway through the program as well as at the end.
Summer associates are provided opportunities and encouraged to attend trials, depositions, closings, and negotiation sessions. In addition, summer associates take the lead in a pro bono program representing claimants at unemployment benefit hearings at the Massachusetts Division of Unemployment Assistance program.
Nutter plans a number of activities designed to acquaint the summer associates with their colleagues and life in Boston, including weekly lunches, sporting events, cultural activities, and informal social gatherings. Follow us on Instagram, @NutterLaw.
Program Structure
Our approach to the summer experience at Nutter is to provide our summer associates with substantive client work under supervision of senior attorneys for a complete and accurate picture of our practice and culture.
Summer associates divide their ten weeks between two departments. For those who desire exposure to other areas, assignment coordinators endeavor to provide them with projects tailored to their individual interests. Associates receive two formal reviews, one at mid-summer and one at the end of the program.
Mentoring
Our attorneys provide individual, ongoing, informal feedback to summer associates, and we encourage summer associates to solicit feedback directly from attorneys. Each summer associate is assigned mentors from each department to which he or she is assigned. Our goal is for associates to have a thorough understanding of our client-base and the work environment they will encounter as full-time associates.
Professional Development
Weekly lunch programs focusing on specific practice areas and departments in the firm
Attendance at trials, depositions, closings, and negotiation sessions
Writing workshops
Acting as jurors or witnesses in mock trials while our litigation associates try the case
Deposition skills training program
Weekly mock deal training
Department seminars, trainings, and luncheons
Programming that targets core skills training in the areas of effective communication, leadership, business development, case/deal management, and legal research
Pro Bono
Summer associates participate in pro bono programs, including the representation of pro bono claimants at unemployment benefits hearings at the Massachusetts Division of Unemployment Assistance.
Firm Outings
Social events include a variety of receptions and dinners, as well as sporting and cultural activities.
Meet Our 2017 Summer Associates
Please join us in welcoming our Summer Associates to Nutter for the summer of 2017!
Brian C. Beaulieu Summer Associate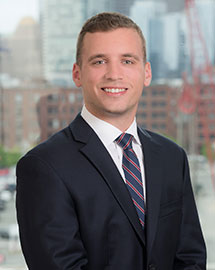 Brian is a Staff Member on the Suffolk University Law Review and a member of the Business Law Association and International Law Society. He participated in the Honorable Walter H. McLaughlin Appellate Advocacy Competition and is a member of the Phi Delta Phi International Legal Honor Society. Prior to law school, Brian worked as a paralegal at the Law Offices of Iannella and Mummolo, where he managed more than 150 active SSDI and SSI advocacy claims in multiple state jurisdictions. After working at the Law Offices of Iannella and Mummolo, Brian became a paralegal at Keegan Werlin LLP. He directly supported a partner in the litigation group, defending a client in a multi-million dollar motor vehicle accident liability case. He was selected to join the litigation group that merged with Cetrulo LLP in 2013. At Cetrulo, Brian worked as a senior paralegal, primarily supporting four partners in complex civil defense litigation in various state and federal jurisdictions. He created reports, developed case strategy and engaged with multiple corporate and industrial clients, including Fortune 500 companies Caterpillar Inc. and Parker-Hannifin Corp. Last summer, Brian was also a Law Clerk at Cetrulo. He conducted legal research and drafted memoranda on various issues including administrative agencies, bankruptcy law, contract modification, employment discrimination, product liability and tort litigation. He authored and integrated new information into the firm's Toxic Torts Litigation Guide. As an undergraduate at Boston College, Brian majored in Political Science and Philosophy. He played for Boston College's Men's Club Ultimate team, also serving as President and Secretary. He volunteers with fellow alumni to help support fundraising efforts for the team and remains active in the sport both as a player and coach. Brian enjoys music and reading and is an aspiring golfer. He is originally from Plaistow, New Hampshire.
Education:
Suffolk University Law School, 2018
Boston College, B.A., Political Science and Philosophy, 2011
Ritika Bhakhri Summer Associate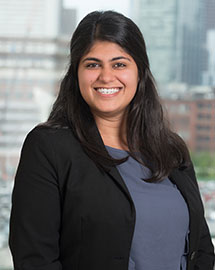 Ritika is President of the Women's Law Center and a 2L Representative of the Law Student Association and the South Asian Law Student Association at BC Law. She was the Retreat Coordinator for the 1L Diversity Retreat. Prior to law school, Ritika was a Legal Assistant at the Law Offices of Michael P. Joyce in Boston. She assisted with records, filing, and drafting motions and subpoenas. During the summer of 2013 she interned at Bingham McCutchen LLP (now Morgan Lewis). Ritika was a Legislative Intern for Congressman James McGovern during the summer of 2012, performing research on legislative issues including women's health and military spending. As an undergraduate at University of Massachusetts Amherst, Ritika majored in Political Science and Legal Studies. She was a Senator in Student Government, a member of Model United Nations, and the President of Save the Children. She studied abroad at the University of Manchester. Last summer, Ritika interned at the Office of the Attorney General in the Trial Division. She researched statutory and case law and completed memoranda for the Assistant Attorney General on issues such as eminent domain and employment discrimination. Concurrently, she was a Research Assistant to Professor Frank J. Garcia at BC Law. She researched key principles constituting global law. Ritika enjoys cooking, podcasts, and watching basketball. She is originally from Punjab, India.
Education:
Boston College Law School, 2018
University of Massachusetts at Amherst, B.A., Political Science and Legal Studies, 2014
Cambrey Dent Summer Associate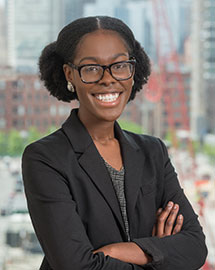 Cambrey is a member of the Black Law Student Association, the Women's Law Association, and the Public Interest Project at BU Law. She is a NAACP Legal Defense Fund's Earl Warren Scholar and NAACP Legal Defense Fund's Spring Spotlight Scholar. Prior to law school, Cambrey was a Policy Intern for Every Child Matters in Washington, D.C. She researched and wrote policy blogs about various issues affecting children such as standardized testing. She collaborated with team members to design and execute social media campaigns. During the summer of 2015, Cambrey was a Freedom School Intern at the Children's Defense Fund in Washington, D.C. She assisted in executing over 1,000 freedom schools, reading enrichment programs designed to curb summer learning loss for minority youth. As an undergraduate at Baylor University, Cambrey majored in Political Science. She was a Baylor Ambassador, Resident Advisor, and a member of Model United Nations. During the 2015 school year, she was a Legislative Intern for Senator Judith Zaffirini. She conducted legislative research and drafted memoranda for staff about legislative proposal and constituent concerns. Last summer, Cambrey was the Assistant Curriculum Director and Sr. Counselor at New Foundation Summer Feeding Program in Laplace, Louisiana. She organized enrichment activities, such as spoken word and creative writing competitions. She managed camp registration and served as a liaison for junior counselors and program directors. Cambrey enjoys cooking Authentic New Orleans Creole cuisine, working with youth, and journaling. She is originally from Destrehan, Louisiana.
Education:
Boston University School of Law, 2019
Baylor University, B.A., Political Science, 2016
Elizabeth H. Hadley Summer Associate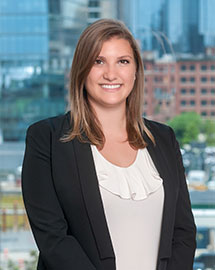 Liza is Treasurer for the BU Law Student Government Association, the Alumni Liaison for the Intellectual Property Law Society, and a member of the Women's Law Association and Jewish Law Students Association. Liza was a 2016 Summer Associate with Nutter in the Intellectual Property Department. During the school year she worked part-time at Nutter as a Technical Specialist where she prosecuted patent applications and assisted with trademark matters. Prior to law school, Liza was a Patent Examiner at the U.S. Patent and Trademark Office in Alexandria, Virginia. She reviewed patent applications in the field of internal combustion engine control systems for compliance with statutory requirements and novelty, performed prior art searches, and conducted interviews with applicants. As an undergraduate at the University of Virginia, Liza majored in Mechanical Engineering. She was a member of the Sigma Kappa Sorority's Standards Council and Scholarship Committee, an Engineering Peer Advisor, and a member of the Varsity Women's Rowing Team. Liza enjoys baseball, traveling, and listening to way too many podcasts. She is originally from Arlington, Virginia.
Education:
Boston University School of Law, 2018
University of Virginia, B.S., Mechanical Engineering, 2012
Kathleen R. Henry Summer Associate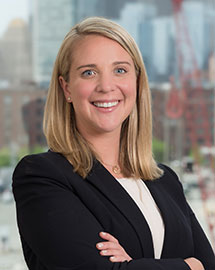 Kate is an incoming Managing Editor for the American Journal of Law and Medicine and a member of the Women's Law Association and the Health Law Association at BU Law. Prior to law school, Kate was a Legal Assistant at Hyman, Phelps & McNamara, P.C. in Washington, D.C. In this role, she researched and compiled publicly available information for large due diligence projects, prepared discovery documents in response to government subpoenas, and conducted legal research regarding pharmaceutical products, medical devices, and other FDA-regulated products. During the summer of 2011, Kate interned at the National Endowment for the Humanities in Washington, D.C. She served as rapporteur for all grant proposal review panels and conducted extensive research on grant recipients in the Library of Congress. Last summer, Kate was a Summer Associate at the Cambridge location of Natera, Inc., a biotechnology company. She researched state laws and requirements for pending and ongoing litigation and disputes, and analyzed marketing material for compliance and regulatory issues. As an undergraduate at Denison University, Kate majored in History. Kate was a member of the Kappa Alpha Theta Fraternity and the Phi Alpha Theta national history honors society, and a recipient of the Denison Alumni Award for four years. She studied abroad at the Institute for the International Education of Students in Vienna, Austria. Kate enjoys ice hockey, cooking, and domestic and foreign travel. She is originally from Chevy Chase, Maryland.
Education:
Boston University School of Law, 2018
Denison University, B.A., History, 2012
Suyoung Jang Summer Associate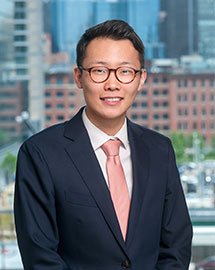 Suyoung is Subciter and Digest Contributor for the Journal of Law and Technology at Harvard Law. During the school year, he worked at the EdLaw Project assisting families with their educational needs. Suyoung was a 2016 Summer Associate with Nutter in the Intellectual Property Department. He will be spending his 2L summer at Knobbe Martens in Seattle and will return to Nutter at the end of July. Prior to law school, Suyoung interned at Schlumberger in Houston, Texas. He developed testing methods to detect manufacturing defects in drilling and measurement tools and cooperated with design engineers to implement solutions for circuitry issues. Suyoung also interned at Ericsson in Atlanta, Georgia. As an engineering intern, he collaborated with a team of RF engineers to solve sustainability issues in the Clearwire data network. As an undergraduate at Georgia Institute of Technology, Suyoung majored in Electrical Engineering. His undergraduate research focused on RF devices and was published in the Antennas and Propagation Society International Symposium. He was President of the Phi Alpha Delta Pre-Law Fraternity and a Mentor for the ECE Ambassadors. Suyoung earned an ECE Senior Scholar Award and was a 2014 Radio Club of America Scholar. He also was a DJ for a jazz program on WREK radio. Suyoung enjoys technology law, guitar, and songwriting. He is originally from Birmingham, Alabama.
Education:
Harvard Law School, 2018
Georgia Institute of Technology, B.S., Electrical Engineering, 2015
Patrick J. Maher Summer Associate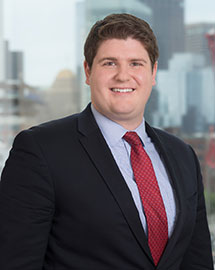 Patrick is the Executive Symposium Editor of the Emory Bankruptcy Developments Journal, a member of the Emory Labor and Employment Law Society and the Emory Public Interest Committee. Prior to law school, Patrick was a Litigation Case Assistant at Arnall Golden Gregory LLP in Atlanta. He supported over forty litigation attorneys and two senior paralegals by maintaining case files throughout the litigation process and compiled exhibits for attorney review and trial usage. He was also a Legal Assistant at The Sherman Law Group, where he wrote and edited pleadings and discovery documents in criminal, family law, and bankruptcy cases. He composed blog posts for the firm's website regarding DUI arrest protocol in local cities and counties. Last summer, Patrick interned at the United States Equal Employment Opportunity Commission in Atlanta, where he composed cause review memoranda evaluating the merits of claims and determining the claims' suitability for litigation by the EEOC based on the Commission's strategic enforcement initiatives. During the spring semester, Patrick was an extern in the legal department at Mercedes-Benz USA, where he worked with the company's corporate counsel on employment matters. While at Mercedes-Benz, he revised Employee Handbook sections, wrote position statements in response to EEO charges, and drafted various employment-related agreements for use by the company. Next fall, Patrick will be serving as a student attorney in Emory's Barton Juvenile Defender Clinic, where he will represent child clients in juvenile court and provide legal advocacy in the areas of school discipline, special education, mental health, and public benefits. As an undergraduate at Kenyon College, Patrick majored in English. He was a member of the football team, where he was a First-Team All-Conference center, the 2012 Kenyon College Football Offensive Lineman of the Year, and a member of the National Football Federation Hampshire Honor Society and Kenyon College Football Leadership Council. Patrick enjoys fantasy football, softball, and exploring local restaurants. He is originally from Marblehead, Massachusetts.

Education:

Emory University School of Law, 2018
Kenyon College, B.A., English, 2013
Daniel R. Mello, Jr. Summer Associate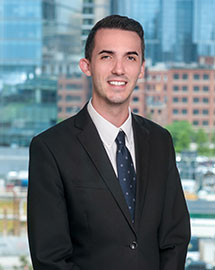 Daniel is the Vice President of the Latin American Law Student Association at BU Law. Last March, he participated in "Spring Break of Service" in Detroit advocating for landowners to prevent tax foreclosures. Daniel was a 2016 Summer Associate with Nutter, participating in the Boston Lawyers Group's 1L Diversity Clerkship Program. He will be spending his 2L summer at Goodwin and will return to Nutter for the month of August. Prior to law school, Daniel taught math and community justice for Teach for America at Mergenthaler Vocational-Technical High School in Baltimore. He wrote the school's LGBTQ anti-bullying policies and co-advised the Gay-Straight Alliance. He also served as a faculty advisor for a sustainable foods and urban garden project. As an undergraduate at Boston University, Daniel majored in Business. While in school, Daniel was a Field Investigator for the Massachusetts Commission Against Discrimination. He performed undercover investigations at businesses to reveal discrimination in hiring. He also was a Legal Intern and InfoLine Volunteer for Gay & Lesbian Advocates & Defenders (GLAD). He performed educational outreach to marginalized queer-identifying men of color and made legal referrals in Spanish pertaining to same-sex marriages, discrimination, and harassment based on sexual identity and orientation, and HIV/AIDS status. Daniel also worked as a University Coordinator and Development Intern at Health Leads, Boston Medical Center, where he fundraised $175,000 through grant writing. Daniel is fluent in Spanish and Portuguese. He has intermediate language skills in German, Japanese, and American Sign Language. Daniel enjoys playing piano, long-distance running, and learning foreign languages. He is originally from Tiverton, Rhode Island.
Education:
Boston University School of Law, 2018
Johns Hopkins University, M.S., Transformational Education, 2015
Boston University, B.S.B.A., Business, 2013
Recruitment
Our Hiring Committee recruits talented law students for our Summer Associate Program. Throughout the year we also recruit practicing attorneys with particular expertise to enhance our ability to serve our clients. Our recruitment efforts include participation in minority job fairs and on campus interviewing at a variety of Law Schools. In all of these endeavors, we look to increase the diversity of our attorneys' backgrounds, skills and experiences. For more information about opportunities at Nutter, please see our Careers page.
Nutter On-Campus Schedule - 2017
Tuesday, August 1
Northeastern University School of Law
Wednesday, August 2

BLG Job Fair

(Job Fair Reception: August 1)

Friday, August 4
Loyola Patent Law Interview Program
Monday, August 8
New England Law | Boston
Monday, August 7
Harvard Law School
Tuesday, August 8
Boston University School of Law
Tuesday, August 8
Suffolk University Law School
Wednesday, August 9
Boston College Law School
If you are interested in joining our 2018 summer program, please click here to apply. Be prepared to attach a cover letter, resume, copy of your law school transcript, and a writing sample. If you have any questions about Nutter's Summer Program, please contact Kaitlin Hoffmaster.
Contact
Kaitlin Hoffmaster
Recruitment Administrator
khoffmaster@nutter.com