Trending news
Nutter Helps Client Ekso Bionics Ring Nasdaq Closing Bell in Honor of Uplisting
Print PDF
08.31.2016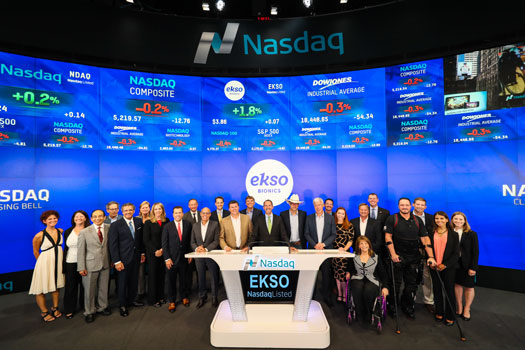 Nutter client Ekso Bionics Holdings, Inc. (Nasdaq: EKSO), a robotic exoskeleton company headquartered in Richmond, CA, visited the Nasdaq MarketSite in Times Square on August 30 in connection with the recently announced listing of its stock on the Nasdaq Capital Market. In honor of the occasion, Tom Lobby, President and CEO, rang the Closing Bell. Erin Anderman, an associate in Nutter's Business Department, attended the event.
Ekso Bionics recently announced the approval to list its common stock on the Nasdaq Capital Market in connection with a registered public offering of its common stock. The company's common stock began trading under the symbol "EKSO" at the opening of trading on August 9. Nutter advised Ekso Bionics on both the public offering and the Nasdaq listing.
Ekso Bionics designs, develops, and sells exoskeletons that have applications in healthcare, industrial, military, and consumer markets. Their exoskeleton systems are worn over the user's clothing to enhance human strength, endurance, and mobility. These systems serve multiple markets and can be used both by able-bodied users as well as by persons with physical disabilities. The company and its partners have sold, rented, or leased devices that (a) enable individuals with neurological conditions affecting gait (for example, spinal cord injury or stroke) to rehabilitate and to walk again; (b) allow industrial workers to perform heavy duty work for extended periods; and (c) permit soldiers to carry heavy loads for long distances while mitigating lower back, knee, and ankle injuries.
Please click to watch the video and view additional photos.
More News >
Attorneys
Practice Areas
Industries